I saw a look similar to this whilst surfing the web, especially the lips and just knew I had to give it a shot! I suspect the one I saw online had some level of Photoshop applied to it, where as mine has none so I'm not feeling too bad that it wasn't total success ahaha.
It was a fun look to rock, I did the mistake of putting up some white filters over my lights to soften them, but by doing so have added a "cold" touch to my photos. Which is fine for some looks, but Purple Pop was suppose to be a fun loving, warm look :/ Oh well, another lesson to chalk up!
Obviously NOT a practical look at all, if you tried to eat or drink anything the lipstick would be completely ruined, but not everything in life has to be practical 😉 If only I had a short cute blonde wig to sport with this look, it would have been even more cute/fun!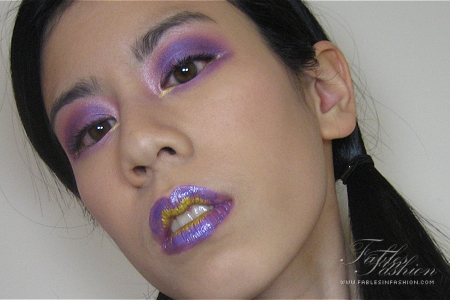 Products used:
Face
MAC Prep + Prime Skin Base Visage
Giorgio Armani Lumious Silk Foundation 4
Giorgio Armani Micro-fil Loose Powder 1
Bobbi Brown Creamy Concealer Beige
Bobbi Brown Sheer Finish Loose Powder Pale Yellow
Cheeks
NARS Blush – Orgasm
NARS Highlighter – Albatross
NARS Bronzer – Laguna
Eyes & Lips
MAC Paint Bare Canvas
NYX Trio Eyeshadow TS06
NYX Ultra Pearl Mania – True Purple
NYX Ultra Pearl Mania – Yellow
MAC Fluidline Non-Conformist
Covergirl Lash Blast – Very Black**
Lips
NYX Eye/Eyebrow Pencil – Purple
Lucas Pawpaw Ointment