Sirene here~ Today I have an extra special treat for you all, a guest post from one of my closest friends Sefie~ I hope you enjoy her post, I know I sure did! <3
—
Hi there! It's Sefie, the other half of 1Up Makeup. I also blog at Sefie Eats, writing about how I nom through life as best as I can!
In late April this year, my absolute makeup hero, Napoleon Perdis, launched his first book, Forever Flawless. Unfortunately, Sirene was stuck at work, so I made it my duty to go to the book signing session at Chadstone Shopping Centre.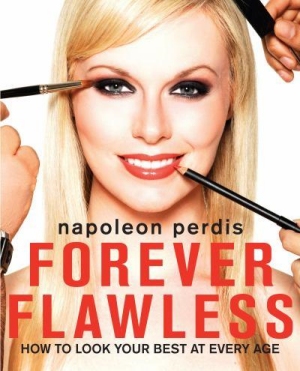 I love Napoleon, not just because I think his products are great, but because he's the first (and pretty much only) Australian in the high-end cosmetics market. He's always come across as funny, approachable, and extremely confident, which is how I feel when I put effort into applying my makeup. He also caters for the middle-level consumer with his NP Set range, which focuses more on palettes and smaller sizes of products, which allows you to try and play with makeup without dropping an absolute ton of money on it.
My first and favourite NP product is the China Doll foundation (Shade 4). Some people criticise NP foundation as having yellow tones, but with my darker Asian skin, this matches me perfectly. While I now use MAC Studio Fix (NC42) or BB cream as my everyday foundations, China Doll is my choice for photoshoots. It almost never goes shiny, and dries to a lovely matte finish, even when I'm too rushed or lazy to put powder on. My NP Set 10 Colour Eyeshadow Palette is my everyday palette, with Two Faced Eyeshadow Insurance to make it last all day.
Okay, enough ads, onto the book signing!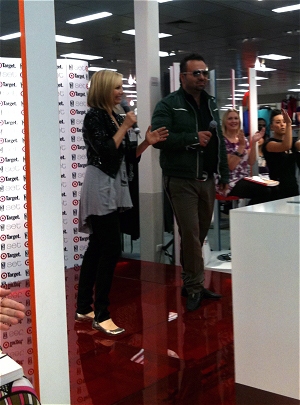 I got advance notice of the book signing from the NP mailing list, and I could not pass up the opportunity to meet my hero face-to-face. I was a little disappointed that it was being held at Target rather than the actual concept shop, but I suppose it would have been a lot more difficult for security to handle. I was surprised to see Anne-Marie Biggar (in pic) MCing the event, but she did a fairly good job of keeping the line moving and entertaining the general crowd. I got there about an hour early, and there were already about 30 people there. Within half an hour, there was already nearly 100 people! Which was lucky, because only the first 100 people got a free gift pack… which was kind of crap, to be honest. $5 Target gift card, pair of footless tights, 3 mini NP nail polishes (leftover Christmas packaging… in April…) and a sample sachet of NP Auto Pilot foundation – in a crinkly paper bag. On the other hand, the best thing in the gift bag was the comfiest grey T-shirt I have ever worn! Another big plus was that the book itself was 35% off, making it only $26AUD.
Finally getting Sirene's and my books signed. I also got a chance to gush about how much I love China Doll, and he thanked me for giving him specific feedback!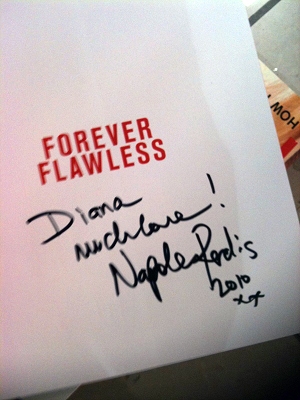 Mwaaaaa~
So, as for the book itself. The photography, of course, is typical NP style. Minimal background, clean faces and slick hair, and no celebrities at all, just "real" people. It was written to promote the NP Set series, and to be honest, it's quite heavy on the specific product recommendations. Savvy makeup fans will be able to dupe or use products they already have, but if you're that savvy, you probably know 90% of what's in the book already. There's nothing particularly surprising in it, unless you're still putting on concealer underneath your foundation. However, it is also full of positive messages about body image, and using makeup to enhance your features, rather than to cover them up, or use it as a crutch. Beginning MUAs might also find it a good starting point, especially if you don't have much experience with people in other age groups (especially older women). And, of course, the fact that it was so much cheaper and signed by Napoleon himself means that this book has a treasured place on my bookshelf.
I hope you enjoyed this guest post, and thanks to my darling Sirene for letting me gush on. Love love~
– Sefie