Thanks to my Lookbook series, I sometimes wonder whether I give the impression all I do is heavy / costume-y makeup. This is certainly not the case! So I thought why not show you guys 3 of my "everyday" looks. Not to mention I would like to start getting into talking more about everyday looks / makeup / skin care products with you guys. Be warned, unlike my Lookbooks / Photoshoots, I've done absolutely no photoshopping, so you'll see me in all my "glory", freakles, scars, beauty spots and all! Be afraid, be very afraid!
No Makeup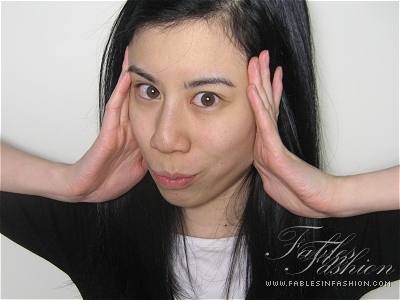 I rock this look everyday and surprisingly very often. It's important to give your skin time to breath and I love being all natural when I can. Frankly I think people really don't give themselves enough credit when they pack on heaps of makeup to hide their natural self. It's one thing to wear makeup cause it's fun, but another because you're hiding your true self! We are all so beautiful and perfect just the way we were born 🙂
Work / Everyday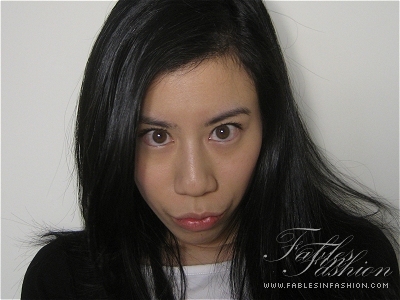 Edit: I'm still wondering whether I uploaded a pic of myself looking like a Poring..
This is what I wear to work and generally when I'm out being social. Pretty minimal, really the most noticable product is eyeliner and mascara as I feel this just opens my eyes and makes me look more awake. If I can be bothered, I'll also use a tinted moisturiser, light peach / pink blush and a light earthy toned eyeshadow. In the image above, I'm using everything except eyeshadow.
Evenings
I don't tend to have a "standard" evening look, it really depends on the event / situation. But generally, my makeup is just heavier. Stronger blush, liner and darker eyeshadows. If I'm feeling adventurous I could end up throwing in anything (I once went to dinner with glitter in my eyeshadow!), but usually I'll reach for a lipstick/gloss and line my waterline.
Note that I don't use concealers or foundations, I reserve these products for my Lookbook / Photoshoots. I generally like to keep my makeup as light as possible, whilst having a bit of creativity.
And there you have it! As much as I love doing my Lookbooks, you won't catch me in the office sporting one of them 😉